Rob Gronkowski here to more than block, baby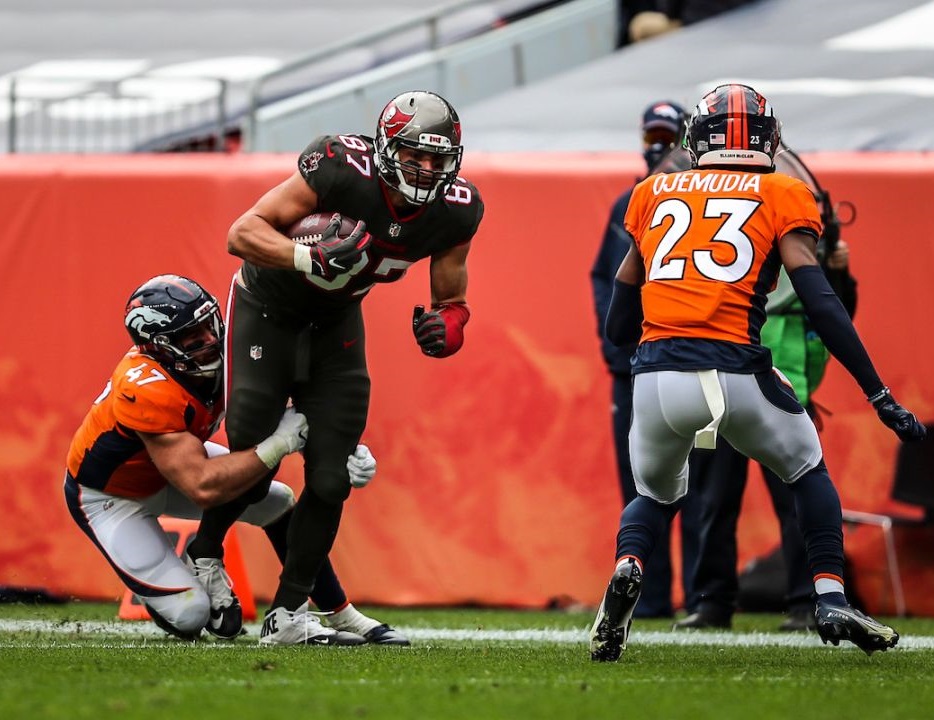 It turns out Rob Gronkowski is more than a blocking tight end after all. Gronkowski spent last week deflecting talk about his miniscule role in the Bucs' passing game through the season's first two contests, then had his best game with the team Sunday. He had a team-high six receptions for 48 yards in a 28-10 win over the Broncos in Denver.

In the first two games, Gronkowski had just two catches for 11 yards. Last week against Carolina, he was targeted just once, and the pass was intercepted. But with the Broncos focusing on taking the deep ball away and double-teaming receiver Mike Evans, the Bucs found the middle of the field open, and the tight ends were the beneficiaries. Gronkowski and O.J. Howard combined for nine catches for 97 yards.

"This was one of those teams that were going to double-team Mike the entire game, and it just opens it up for the guys inside," coach Bruce Arians said. "I really liked the way we improved in that area, getting those guys open and catching the ball and delivering it to them. If they're going to double Mike, those guys have to show up."

Of all the receivers quarterback Tom Brady can trust, Gronkowski has to be atop the list from their years together with the Patriots. There is no player to whom Brady has completed more passes. And Sunday, Gronkowski was a safety valve for his longtime quarterback. Of Gronkowski's six catches, three were for first downs, and a fourth resulted in a third and 1 that the Bucs converted.

"It just felt good to be out there making a couple plays there and getting involved in the pass game," said Gronkowski, who came to the Bucs in the offseason after Brady's free-agent arrival. "Not every week (are) you going to get targets your way, because you never know how the game is going to go.

"But (Sunday) it went that way where I had a lot of targets, and it just felt good to get involved. Just the way Tom spreads the ball is unbelievable. He just finds the open guy whenever he needs to and just spreads the ball out and hits the guy that's open."


Early in the game, the Broncos were concentrating on Gronkowski. During the Bucs' first series, as he lined up in the slot beside receiver Chris Godwin, his vertical route drew two defenders with him into the end zone and allowed Godwin space to make a catch underneath. Godwin beat two Denver defenders to the end zone in front of the left pylon.

Gronkowski made two key catches on the Bucs' two second-quarter touchdown drives. On the first one, on third and 4 at the Denver 9-yard line, Brady found Gronkowski underneath for a 6-yard gain. Three plays later, the Bucs scored on a Brady 1-yard screen pass to Mike Evans.

On the Bucs' next drive, on second and 10 at the Denver 23, Brady found Gronkowski in the flat, and he gained 9 yards to set up third and 1. After running back Ronald Jones ran for a first down, Brady connected again with Evans for a touchdown to give the Bucs a 23-3 lead.

Despite his coy news conference last week in which he joked that he came to Tampa Bay exclusively to block, Gronkowski said after the game that he had faith he'd become a bigger part of the passing game. "I just knew that if I just keep week in and week out just practicing hard, going out there and doing what I need to do, though, it was going to click," Gronkowski said.

"I've been in the league for a while, so I've seen that there's some games where you just don't get any looks and there's some games you get a lot of looks. That's the grind of a football season. So I definitely had faith that I was going to get involved in the passing game, and it happened (Sunday), and I truly believe that we can keep getting better."

Eduardo Encina, Tampa Bay Times, published 28 September 2020