Griese survives 67 pass attempts
Gary Shelton, The St.Petersburg Times, published 22 September 2008

Sometimes, it is not how far you travel. Sometimes, it is knowing how to change directions along the way. When the talk about the Bucs resumes today, odds are it will begin with Brian Griese's statistics. And why not? When a quarterback throws the ball 67 times, and when he accounts for 407 yards doing it, there are a lot of plays to dissect.

Granted, those are impressive, nearly historic, numbers. Considering Griese's reputation as a quarterback with a pedestrian arm, you could even call them staggering numbers. And still, they do not tell the story of Griese's day.

If you want to consider Griese's greatest contribution to Sunday's 27-24 overtime victory over the Bears, do not look first to the way he left Bucs coach Jon Gruden hopping across the field in unrestrained glee. Do not begin with his 38-yard pass to Antonio Bryant that set up the winning field goal. Do not even look at his 1-yard touchdown pass to Jerramy Stevens with seven seconds to play, the score that forced overtime. If you want to look for the best of Griese, start at the worst of times. After that, remember the way Griese pulled himself, and his team, out of a free fall.

Perhaps you remember the moment. The fourth quarter was less than five minutes gone, and the Bears led 24-14, and the Bucs had a 1-2 record written all over them. Griese had just thrown his third interception, and he had completed only seven of his previous 17 pass attempts, and the temptation was to look at the sideline to see if Gruden had another quarterback warming up.

At the time, you could almost feel the conversation mounting. Why isn't this offense ever any good? Shouldn't the Bucs have looked a little harder for a few playmakers during the offseason? And most of all, who should get next week's start against the Packers?

That is about the time Griese stuck his head into the huddle, calm as a rippleless lake, and talked about making a few plays. Stevens even suggested later that Griese had the demeanor of a guy playing ball on the sandlot. As simple as that, everything changed: the noise of the fans, the feel of the season and, most of all, the play of the quarterback.

This is one of a quarterback's greatest strengths: instilling belief. Staying confident in the chaos — even the part that is self-induced — and keeping the chains moving. "You can't lose confidence, that's the main thing," Griese said. "You can't lose the ability to make plays. You can't be tentative and play quarterback in this league."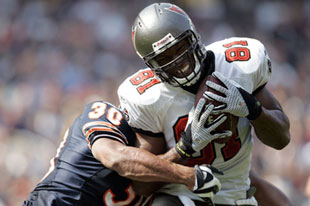 In Griese's next drive, he passed for all the yards in a 63-yard drive to lead his team to a field goal. In the drive after that, seemingly in a groove because of the two-minute offense, he passed for 74 yards in a 79-yard drive for the tying touchdown. In his second overtime possession, he threw for 66 yards in a 90-yard drive to set up the winning field goal.

In all, he threw it 67 times. Sixty-seven. Not saying that's a lot, but usually it's enough for the Rays' Joe Maddon to tell Grant Balfour to start throwing in the bullpen. It's enough to worry about rotator cuff damage. Consider this: Griese threw the ball 15 times in the first half. In the second half and overtime, he threw it 52 times. When you remember the NFL record is 70 passes in a game, that is, to use a technical term, a lot. "I know it's not a recipe for success in the long run," Griese said. "But today it was a necessity. You have to be able to adapt, and you have to find a way to win, and that's what we did."

You wonder: What would Griese's father, Bob, who once threw only 11 times in a Super Bowl victory, think about his son throwing it 67 times? "He'd say, 'You turned it over four times, and you didn't run very well on the road. You should've lost,' " Brian said.

Much more of this and Griese is going to need one of those cool quarterback nicknames. How about Bombs-Away Brian? Gunner Griese? The Man with the Golden-but-Elongated Arm? "I am tired, and my arm is sore," Griese, 33, said. "I've never thrown it that many times in my life."

Funny. Griese didn't seem to mind. This was a huge game for him, after all. For one thing, no one but Gruden knows how firm Griese's hold is on the starting job (though it's fair to say it's firmer today than it was Saturday). For another, the Bears were the team that tossed him aside. "Obviously, I was traded, so they didn't need me," Griese said.

Gruden, it seems, has found a use for him. After Sunday, Jeff Garcia seems at least 407 yards farther away from the field. For the time being, it's the Brian Griese Air Show. Tell the safeties to back up, won't you?