Bucs face bad blood from the start
Dave Schreiber, The St.Petersburg Times, published 22 September 2008

You sort of knew what kind of game this would be when players had to be separated after the opening kickoff. And it was reinforced when Bucs T Donald Penn was flagged for unnecessary roughness on the first play from scrimmage. But the Bucs knew what to expect. "When you're playing a team like the Chicago Bears, you have to come out and be really physical with them," G Arron Sears said. "Unfortunately, some of it came after the whistle, but that's part of the game when you're playing Chicago."

The Bears had stopped Tampa Bay's second drive in overtime, with the Bucs apparently forced to punt from their 10. But Bears CB Charles Tillman drew an unnecessary roughness penalty, keeping the drive alive, and the Bucs went on to win. Tillman was remorseful. "It shouldn't have happened," he said. "The saying is, 'They always see the second push.' It was a costly mistake." The Bucs delivered some punishment of their own, but were unapologetic. "You have a bunch of grown men out there, and nobody's really trying to take (expletive) from anybody around here," Sears said. "So, we had some back and forth."

Ronde's rough day
CB Ronde Barber racked up his 22nd career sack when he decked Kyle Orton in the first quarter. But his day devolved from there, with Barber's performance on a third-quarter series arguably one of the poorest of his career. If it looked as if the Bears were picking on Barber, it's because they were. Barber, perhaps the finest zone specialist in any secondary, found himself isolated in man-to-man coverage on a series of plays, and the Bears considered it an enticing opportunity.

Barber first missed a tackle of WR Brandon Lloyd, who turned the short pass into a 21-yard gain. Then he got beat deep on a 27-yard pass to Lloyd. After the Bears scored on the subsequent play, Barber was at it again, falling while defending Matt Forte on a successful two-point conversion. "It happens," Barber said. "You never see it, which is good. They had us in the defense they wanted us in. … I was bailing out trying to give them (a different) look. But I'll give them credit. They had a good plan for that kind of defense."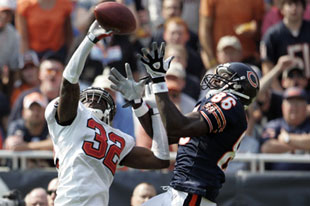 Passing his first test
Second-year CB Marcus Hamilton was on the hot seat. He had spent the 2007 season on the Bucs practice squad and wasn't listed on the pregame depth chart Sunday. But with rookie CB Aqib Talib inactive with a hamstring injury and backup CB Elbert Mack serving a one-game suspension, Hamilton was elevated from the practice squad and thrust into action. The seventh-round pick from Virginia made his biggest contributions early in the third quarter. Chicago had third and 5 from its 37, and Hamilton forced a punt by breaking up a pass intended for Bears WR Brandon Lloyd.

On the next Bears possession, facing third and 5 from the Bucs 48, QB Kyle Orton threw long to Marty Booker, and Hamilton batted the ball away to end the drive. But there was the fourth-quarter play in which he tripped and fell, allowing Lloyd to make a 30-yard catch. "I feel like overall I played well," he said. "There are some things I need to correct, and I think through film study I'll be able to do." The pressure, he maintained, was no big deal: "I felt fine, because I've been practicing all year and the coaches had prepared me well."

All over Orton
The Bucs' pass rush, nonexistent in the season opener, was a major factor for the second week in a row. Although Bears QB Kyle Orton had some success on two second-half scoring drives, the majority of his first half was spent under duress from several defenders. He was sacked three times and absorbed four other hits, but it was the constant presence of a stampeding rusher — hit or no hit — that had him off-kilter. Some of that pressure came from DEs Greg White and Kevin Carter, both of whom recorded sacks.

But it was consistent from the middle of the line as well, from Chris Hovan and Ryan Sims, leaving Orton nowhere to go. The middle rush "helps me, and it also helps the linebackers and everyone else," DE Gaines Adams said. "They're sitting back there in their coverage, and the quarterback isn't able to step up."

Griese picked apart
QB Brian Griese had a career day with 407 passing yards, but he threw a few duds, too, finishing with three interceptions. The consummate professional, he owned up afterward, explaining in depth what went wrong. "The first interception was tipped, and that's going to happen," he said. "The second one was a metal error. I was thinking (Antonio Bryant) was running one route, and he was running another. He was right, and I was wrong. The last one (intended for Jerramy Stevens) was just a missed throw. That's the way it goes. But I need to clean those things up."

Now or never
Notice how the offensive line gave QB Brian Griese time to pick apart the Bears defense late? For one, the defense was exhausted. But teammates cited the leadership of C Jeff Faine, left. "Toward the end of the game, Faine stepped up and said a few words for us," G Arron Sears said. "Everybody responded. He told us the game wasn't over yet. He said, 'You don't need no energy to sit on the plane and ride home! Get it together.' "

As for Faine? "I don't even remember what I said. But you could tell that those guys on the other side were getting a little tired in the two-minute (offense), and they weren't able to get into their rotation and get off the field. I felt like we could press a little harder, and it was the best our offense did all day."