Bucs Smother Bears to Move to 2-0
The Tampa Bay Buccaneers' Baker Mayfield-led offense came to life on Sunday at Raymond James Stadium - in large part because Mayfield wisely kept throwing the ball to Mike Evans - and a swarming defense did the rest in a 27-17 victory over the Chicago Bears. The Buccaneers won their home opener and improved to 2-0 in the young 2023 season. It's the first time in franchise history that the Bucs have started 2-0 in three straight seasons, and they are the only team in the league to have done so in the past three years.

Mayfield completed 26 of 34 passes for 317 yards, one touchdown, no interceptions and a passer rating of 114.5. He targeted Evans eight times, leading to six receptions for 171 yards and a touchdown. Evans's 70-yard catch-and-run in the second quarter set up RB Rachaad White's four-yard scoring run, and Evans later found the end zone himself with a 32-yard catch on third-and-14 in the third quarter.

"You guys have seen him for years," said Head Coach Todd Bowles of Evans's big day. "He's been doing it his whole career. He's fresh, he's healthy, he's in a great place. He competes his butt off every day in practice, and it showed in the game. He prepared well. Mike was doing things that Mike does, and we love him."

White had one of his best games as a Buccaneer, rushing 17 times for 73 yards and adding 30 yards on five catches for a total of 103 yards from scrimmage. He averaged 4.3 yards per carry but consistently broke tackles and fought for extra yardage, most notably on his second-effort touchdown run, which also came on fourth down. "He just pounds the rock," said tackle Tristan Wirfs of White's efforts in the win. "We do our best to open up holes for him and he finds them. He was hot today, which was awesome, especially getting him in the end zone."

Overall, the Bucs' offense generated 437 yards of offense after being held to just 242 in a season-opening win at Minnesota and converted on eight of 15 third downs. The Bucs outgained the Bears by more than 200 yards, and 165 of Chicago's final total of 236 yards came on two long touchdown drives. Otherwise, the Buccaneers' defense routinely got off the field by pressuring Justin Fields, sacking him six times, hitting on 10 occasions and forcing a number of errant throws. Fields also gained just three yards on four carries, though one of them was a one-yard touchdown run that briefly gave the Bears a 7-3 lead in the first quarter.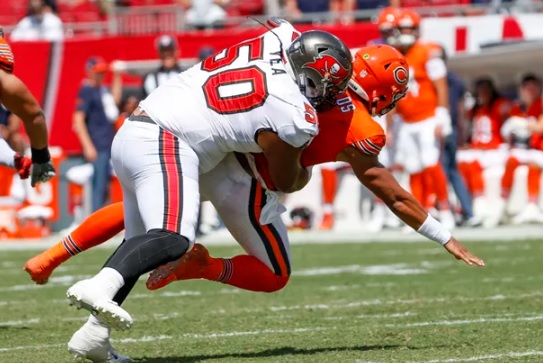 "Our stars played big," said Bowles. "We did a good job holding the ball, keeping them out there. Obviously we'd like to be better in the red zone but for the most part we were operating the run-pass game. It was pretty balanced that way. It wasn't perfect, but as we start to jell and win while we're jelling, it was a good victory for us."

Most importantly, the Buccaneers beat the Bears in two critical areas in the scoresheet. While Fields took those six sacks, Mayfield wasn't sacked once, although he made some startling plays to avoid being taken down. And the Buccaneers won the turnover battle, 2-0, though both came in the game's final two minutes and change. First, after a well-placed Jake Camarda punt forced the Bears to start a last-ditch drive at their own seven, OLB Shaq Barrett made a stunning one-handed interception of an attempted screen pass and returned it four yards for a touchdown. Moments later, rookie safety Christian Izien intercepted a pass after S Antoine Winfield had delivered a hit on Chase Claypool that deflected the ball into the air. Izien now has an interception in each of his two NFL games played.

"That was unbelievable," said Mayfield of Barrett's clinching play. "To seal the deal, right there, yeah, an interception return for a touchdown is always good, especially in that critical situation. We love Shaq. Shaq makes big plays for us and on top of that, Antoine Winfield breaking on the ball, tipping it up for Izien at the end there."

In two games, the Bucs now have a 5-0 edge in takeaways, which has been a huge part of the team's fast start. Mayfield saved his side from committing its first turnover of the season in the third quarter when he fell on a David Wells fumble one play before his touchdown pass to Evans.

"There's definitely a correlation," said Bowles of the Bucs' record and their turnover advantage. "If you don't turn it over, you give yourself a chance to win. Ball possession and time of possession is ultimately very important. You keep the other team off the field. Everybody has a potent offense. The more you can keep them off the field, the better."


After that slow start in Minnesota, the Buccaneers' offense came out firing against the Bears, rolling up 292 yards and 13 first downs by halftime, punting just once in five drives. However, the blocked field goal and two stall-outs inside the 10 meant that yardage only translated into 13 points and a three-point lead at halftime. White did close out one drive in the end zone with an impressive second-effort four-yard touchdown run after a 70-yard reception by Evans.

"We'll take all the wins, whatever form and fashion they come in," said Mayfield. "Offensively the story is right now, we made a lot of good plays today we've just got to finish in the red zone. We've got to capitalize. It's just not good enough. A couple little details here and there that we keep shooting ourselves in the foot, but we'll take a win, like I said."

The Bucs maintained their momentum coming out in the second half, with the defense getting a quick stop thanks to Tryon-Shoyinka's second sack and the offense promptly drove 89 yards for a touchdown. That methodical 12-play drive included a fourth-and-two conversion in Bears territory and another huge play by Evans, this one a 32-yard touchdown catch on third-and-14.

For the second week in a row, special teams proved to be a winning edge for the Buccaneers. Jake Camarda averaged 52.8 yards on four punts, with a net of 47.8 and dropped three of them inside the Bears' 20. His 72-yard punt in the second quarter was the third longest in franchise history. The only blemish on the Bucs' special teams ledger was a blocked field goal in the second quarter, but K Chase McLaughlin made two other three-point shots and both of his extra points.

That blocked field goal actually proved to be a pivotal point in the game, thanks to the Bucs' stingy defense. Chicago got to start at the 50-yard line after that play, their best field position of the whole game, but a sack by Joe Tryon-Shoyinka keyed a three-and-out and a drive of -14 yards. Tampa Bay's offense followed with a 77-yard touchdown drive and then the defense pitched another three-and-out on Chicago's next possession. Tryon-Shoyinka had two of the Bucs' five sacks, Vita Vea add 1.5 and Barrett and Cam Gill had one each.

The Bucs defense guarantees them a share of first place in the NFC South. Atlanta is also 2-0 after rallying to beat Green Bay on Sunday, and the Saints could equal that mark with a win over Carolina on Monday night. "It's always going to be a positive when you're winning and you're undefeated," said Evans. "We're going to take that…two ugly wins but we love those. We love winning. We found ways to win today."


The Buccaneers got the ball first but nearly gave it away when safety Jaquan Brisker jumped a pass intended for Evans but couldn't quite hold on. Tampa Bay got its initial first down of the game when Godwin ran a comebacker on third-and-eight and Mayfield hit him for a gain of 16. The next play was a well-blocked end-around by Thompkins that picked up 11 more and got the ball across midfield. White appeared to convert a third-and-one up the middle three plays later but a holding call on rookie G Cody Mauch backed the offense up 10 yards.

Mayfield once again moved the chains with a 20-yard strike to Evans down the middle. RB Chase Edmonds then found a seam up the gut for a loss of 14 down to the Bears' 13, but he was dropped for a loss of two on the next play. Godwin couldn't quite haul in a sideline pass in the end zone and his third-down grab left the Bucs in fourth-and-five and Chase McLaughlin came out to start the scoring with a 26-yard field goal.

Fields got the Bears off to an even faster start, dropping back on first down and completing a 33-yard pass to Moore. After an incompletion and a Fields keeper, the Bears faced a third-and-five at the Bucs' 37, Fields found Moore again on the left sideline and he got a good block to spring him down to the six. Two plays later, Fields faked a handoff, spun to his right and ran it in himself for a one-yard score.

The Bucs stayed on the ground to start their second drive, with three straight White carries gaining a total of 14 yards for a first down. Two plays later, Godwin ran a deep square-in and Mayfield delivered the ball between three defenders for a 24-yard gain down to the Bears' 37. Cade Otton fought through a tackler for extra yards two plays later to get just enough for a first down at the 26. Mayfield ducked out of a near-sack by Yannick Ngakoue and scrambled for eight yards, but a false start before third down put the Bucs into a third-and-six situation as the first quarter came to an end.

After switching sides, the Bucs had to settle for a field goal try again after Mayfield and rookie WR Trey Palmer were on different pages on third down. Worse, Chicago's Rasheem Green blocked McLaughlin's 40-yard attempt and the ball went all the way back to the midfield stripe before holder Jake Camarda was able to fall on it.

The Bucs' defense kept that play from hurting too much by making three straight plays behind the line of scrimmage. Barrett flew around the right edge of the Bears' line on the next play, catching Fields from behind for a sack for no yards. The Bears then tried WR Velus Jones on an end-around but S Ryan Neal and LB Devin White were all over it for a loss of three. Good downfield coverage made Fields hold onto the ball for a long time on third down and Tryon-Shoyinka eventually dropped him for a sack back at the 36.


After the game's first punt, the Bucs got the ball for a third time starting at their own 23. It only took one play to get into scoring position, as Evans made a leaping catch near midfield and took off in the open field for a gain of 70 down to the Bars' seven. The first two plays failed to get the ball in but a second-effort run by White turned into a four-yard scoring run and put the Bucs up, 10-7, with 11 minutes left in the half.

Tampa Bay's defense forced a second straight three-and-out, with LB Lavonte David tracking down Moore on a receiver screen and dropping him for no gain on third down. A punt and a holding call on the next snap put the Bucs into a first-and-20 at their own 19 but a delayed handoff to White on second down sprung him for nine to make it a more manageable third-and-eight. Otton once again fought through a tackler on a short pass over the middle but this time couldn't quite get to the sticks. Camarda then blasted a majestic put that landed several yards into the opposite end zone and was officially a 72-yarder. Even with the touchback the punt had a net gain of 52 yards.

Bears WR Chase Claypool got the Bears a first down by reaching past the sticks on an eight-yard sideline catch. Rookie RB Roschon Johnson too a toss-sweep left on the next snap and burst through a gap for a gain of 29 yards to the Bucs' 41. S Antoine Winfield Jr. prevented another big gain down the right sideline when he arrived just in time to dislodge the ball from the hands of TE Cole Kmet. However, Fields went to Kmet two more times and it was enough to gain a first down at the Bucs' 24.

Fields held the ball too long on first down and was smothered by Vea and Diaby for a three-yard sack. Two plays later, Gill got Fields again, this time forcing a fumble, though Bears C Lucas Patrick was able to fall on it back at the Bucs' 34. After the two-minute warning, the Bears sent Cairo Santos out to try a 52-yard field goal and he made it to tie the game.

The Bucs got a first down on two plays, a pass over the middle to Otton and a shotgun handoff to White. Two more plays by White, a catch over the middle and a run, added up to 12 more and put the ball at the 50. The Bucs used their first timeout with 53 seconds left in the half, then Moore used a double-move to get open down the right sideline for a gain of 20 to the Chicago 23. Two plays later, Mayfield took off on a mad dash to the left sideline, picking up nine yards and drawing a personal foul for a late hit that put the ball at the Chicago seven with 14 seconds left. Neither a Mayfield keeper nor a pass attempt got the ball into the end zone so the Bucs settled for a 25-yard field goal as the clock ran out.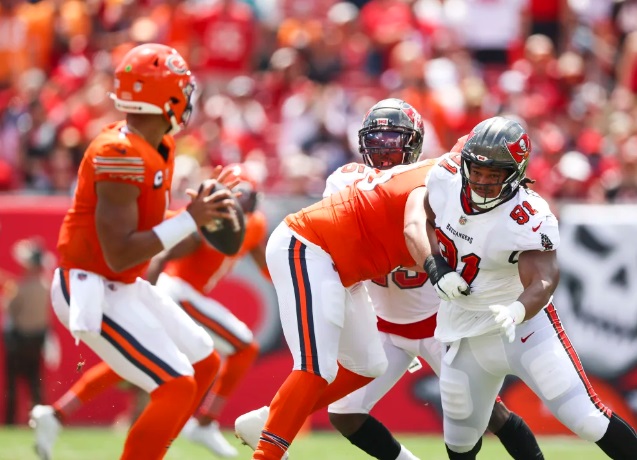 Vea delivered a big hit on Fields two plays into the first drive of the second half to force an errant throw but a draw play to Herbert gained enough for a first down. Tryon-Shoyinka shot around left tackle Braxton Jones for his second sack of the game a few snaps later, making it third-and-23, and a dumpoff to Johnson wasn't close to reaching the first-down marker. Chicago's punt rolled to a stop at the opposite 21 but a holding call made the Bucs start their first drive of the second half back at their own 11.

Two plays into the drive, Mayfield scrambled left and threw a sideline lob to Evans, who not only leaped to bring it in but then spun off S Elijah Hicks and took off down the field for a total gain of 36 yards. Three plays later, on third-and-one, Mayfield escaped pressure and got off a short pass to TE David Wells that just put the ball over the line to gain. Mayfield then made a remarkable throw on the next third down, slinging it side-armed to Otton as he was being brought to the ground, which was good for five yards to make it fourth-and-two at the Chicago 32.

The Bucs went for it and White kept the drive alive by getting around right end on a sweep for a first down at the 28. Two plays later, Wells caught a short pass out to the left but cornerback Jaylon Johnson was able to poke it out of his hands for a fumble. The ball bounced all the way back into the Bucs' backfield, where Mayfield fell on it save the possession. That was a good thing, because on the next play, on third-and-14, Mayfield threw off his back foot and got a perfect arcing pass to Evans in the end zone for a 32-yard touchdown that put the Bucs up by 10 points.

The Bears converted the first two third downs of their next drive, one on a middle screen to Kmet that needed eight and got nine and the second a tough run through traffic that just got to the line to gain. Devin White forced another third down with a hit on Fields that produced what was initially ruled a fumble, recovered by Christian Izien, but was reviewed and changed to an incomplete pass. On the next play, CB Zyon McCollum made a leaping interception on the right sideline but the play was also reviewed and changed to an incompletion. The ensuing punt bounced to a stop at the Bucs' 20, with 32 seconds left in the third quarter.

The Bucs' next drive took the game into the fourth quarter but didn't last long as a third-and-10 pass over the middle to Otton was stopped a yard short, though it took three defenders to keep Otton from fighting his way to the line. Camarda's punt bounced out of bounds at the Chicago 16. The Bears' next drive was a quick one, too, as pressures by Logan Hall and Greg Gaines led to second and third-down incompletions. The Bears' punt went out of bounds at the Bucs' 35 with 12:31 left in regulation.


A holding call on Evans erased a good gain on a screen pass to Godwin and put the Bucs into a second-and-18 hole. White stiff-armed a defender to get nine yards on a dumpoff pass. Mayfield somehow eluded what seemed like a sure sack on third down but his hurried pass to Evans came up three yard short and the Bucs had to punt. This time, Camarda hung his kick very high and it was fair caught at the Bears' 10.

Chicago got one quick first down and then picked up a big gain with a misdirection screen to Herbert that went for 23 yards. Fields dropped a shotgun snap on the next play and ended up with an eight-yard loss, eventually leading to a third-and-10 at the Bears' 46. Fields had a lot of time to throw on third down and was able to get the ball to an open Moore for another 22 yards and a first down at the Bucs' 32. CB Jamel Dean had to be helped up after the play, stopping the clock at 7:09. The Bears picked up a blitz, allowing Fields to find Moore again on the left sideline. He had an open shot to the end zone but wasn't able to stay inbounds. That only delayed the Bears' touchdown slightly, as Fields zipped a 20-yard touchdown pass through traffic to Claypool.

With their lead down to three points, the Bucs took over again at their own 25 following a touchback. A five-yard run by White and a play-action throwaway quickly made it third-and-five but the Bucs kept the play alive with a tunnel-screen to White that he turned up for a gain of eight. White ran twice more, bouncing the second one out to the right for 13 yards and a first down just across midfield. A false start penalty on Luke Goedeke stopped the clock at 3:27 and pushed the ball back into Bucs territory. One run each by Tucker and White were bottled up and the Bears called a timeout with 2:43 left. Mayfield hit Godwin at the Bears' 43 on third down and Chicago used another timeout at the 2:38 mark prior to Camarda's punt. Camarda was able to drop his kick down at the Bears' seven-yard line.

The Bucs gave the Bears a little boost at the beginning of the drive with an offsides penalty but an offensive pass interference call evened that out and put the ball back at the six. On the next play, Barrett sniffed out another attempted screen to Herbert and picked it off at the four. With the help of several teammates pushing him from behind, Barrett was able to power his way into the end zone for the score. Chicago got the ball one more time with two minutes to play but Fields was sacked by Vea on second down and intercepted by Izien on third down to close it out.

Scott Smith, Buccaneers.com, published 18 September 2023