What Jon Gruden had to say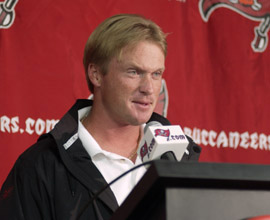 The Tampa Tribune, published 20 September 2004

Any initial comments on the game?

I'm very proud. They competed very hard today. I'm very disappointed, obviously, in the outcome. Offensively, right now, we can't find our identity. We made a quarterback change today to give our football team a lift. I thought Chris did some good things in the game. I don't have any injuries to report. I'll just say I am very proud of these guys. They played their butts off today and lost to a good football team. It's unfortunate.

Will Brad Johnson will return as the starter?
We're going to address that when the time is appropriate. We'll sleep on that tonight and we'll see exactly where we are headed. We love Brad Johnson. Chris Simms is an up-and-coming prospect. We'll wrestle with that decision and do what gives our team a chance.

Was the QB switch was decided before or during the game?
We had no intention of making a switch. We are looking for a spark. We felt Chris could come in and give us a different perspective. I thought he did. I thought he had a couple nice drives, but no, it was not premeditated.

Why was Simms named as No.2 before the game ahead of Brian Griese?
Both Brian (Griese) and Chris are guys we like. Given the first game was at Washington, we knew we were preparing for a lot of different looks. We went with Brian because of his experience and the fact that he is a right hander does help us a little bit with the offensive line. A lot of the play-action passes are difficult to cover against a lot of looks both ways, for a right-hander and left-hander. We still like Brian Griese. We like Chris Simms. We just have to find some way to get it going offensively.

Who will start next week?
I won't say anymore about the QB situation other than we'll take a good look at it. We'll do what we feel is right for our football team.

Are you developing an offensive identity?
Obviously, right now, we are not running the ball with consistently. We're not doing anything with any kind of consistency. Running, throwing, converting third downs. A lot of it has to do with two pretty good football teams we've seen. We had a lot of mystery in terms of our lineup, which has not made it easy. We'll try to solidify that this week.

Will Mike Alstott will be more involved?
We'd like to get a lot of guys more involved, quite honestly. Mike is one of those guys, certainly. We need big plays. We need a big play. A 20-yard play. We need a big play somewhere along the way. We will look at it and see what we can do.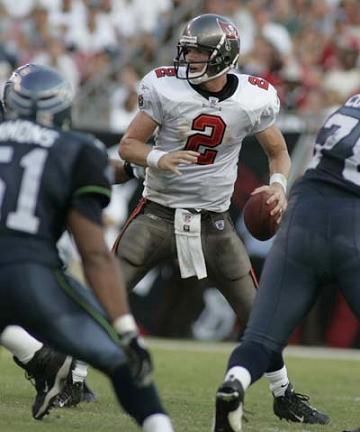 What Chris Simms had to say
What did you feel moving up to second QB?
I knew to be ready. I know that we didn't play great last week, so I just knew being the second-string quarterback; they're always telling you to be ready. Anything could happen and I just wanted to approach it like I was going to play.

What did Jon Gruden say to you when he made the QB switch?
They just told me, 'Let's go, you're ready, it's all up to you.' I just warmed up and of course, was very excited. I wish I had better results.

Were you nervous on the first drive?
I wasn't really nervous; I was probably a little more excited than anything, and just ready to go.

Why did you start pumping up the crowd?
I just wanted to give some life to the game and try to get the fans into it.

Do you feel you are ready to start next week?
That's not my decision. That's coach's decision. I'm just going to go back to work this week and practice hard. Coach has a lot more experience in this game than I do, like I have been telling you all along, so I trust him.

Did Brad Johnson say anything to you?
Brad is always very encouraging. He told me to go in there and be calm. Brad has always been a great help to me. He and Brian Griese have really talked to me a lot. They keep me calm on the sideline, and have given me a lot of helpful pointers.