Rookie QB Is Neither Hero Nor Goat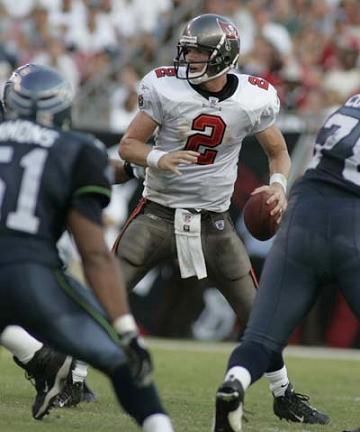 Joe Henderson, The Tampa Tribune, published 20 September 2004

There was a tap on his shoulder from an assistant coach and a simple command to get ready: Next series, you're in. Chris Simms didn't have a lot of time to think about the first time he was to step on the field during an NFL game. Just a few tosses on the sideline and go get 'em, kid. Simms went to center John Wade and told him what was up. ``I said, `OK,' '' Wade said. ``We're in the middle of a game. It's not like, oh man! I don't know the reason; I still don't know. You're in the middle of a battle.''

Judging by the reaction of the fans when Simms' face was shown on the video boards at Ray-Jay, having him replace Brad Johnson at quarterback early in the second quarter was a popular move. Judging solely by the bottom line of a 10-6 loss Sunday to Seattle, however, it's hard to say whether this was a new dawn. In his first regular-season action since being drafted in 2003, Simms performed about like you'd think a young quarterback would - some good plays, some not so good, and one awful one.

That was the interception he threw as he was about to be sacked with 1:34 left in the game and the Bucs driving toward a possible winning touchdown. ``I was trying to throw it away and not take a sack, and I threw it too far,'' he said. ``It was my fault, stupid throw, and it ended up costing us the game.''

We're always in a hurry to make judgments, especially when it comes to the Bucs - double especially at quarterback. In this case though, there's just not enough evidence based on his performance in three quarters of a game. He could be the answer, but Simms fumbled one potential touchdown away by botching a snap at the goal line near the end of the second quarter. He seemingly threw an interception on the final drive that should have sealed the loss, but got a reprieve when Seattle committed a penalty.

Then he came right back with the interception - for real, this time - that made the Bucs 0-2. It wasn't exactly the kind of debut that summons trumpets and choirs of angels from the sky to herald his arrival, but the kid did show some moxie. ``I was excited,'' Michael Clayton said of Simms' move from the sideline to the huddle. ``I know Chris' ability, I know his arm strength, and I know he can throw the ball down the field.''


The Seahawks had the welcome wagon ready. As Simms peeled his undershirt off in the locker room, a pair of 6-inch-long welts were over the rib cage on his left side, thanks to a blitzing Seattle linebacker in the fourth quarter. ``I missed that by not playing,'' Simms said. ``I missed waking up sore on Monday.''

He'll be sore today, all right, and he could be sore next Monday morning too, after the Bucs play at Oakland. But Jon Gruden wouldn't commit to Simms starting against the Raiders, and so we are left to debate among ourselves and judge by what we saw. Simms has a stronger arm than Johnson, and we know he moves better. He was sacked four times, but that number might have doubled had the slower Johnson stayed in the game.

When Simms threw deep one time, fans cheered even though the pass was incomplete. They were happy to see someone try to stretch the field. Simms can be that guy. ``In the huddle, he was poised. I know he has a firm grasp on the system,'' Wade said. ``In the huddle I'm fine with him.''

The question is, is Jon Gruden fine with him? Simms found out earlier in the week he was going to be the No. 2 quarterback after spending last week at Washington as the emergency guy. They told him the same stuff they always say, things like ``be ready'' and all that. Somehow, Simms felt this time might be different. ``I kind of had a vibe I might play,'' he said.

The game was faster than he thought it would be and Seattle isn't an easy defense to break in against. A year of standing on the sideline has left its share of rust, as a breakdown of Sunday's video undoubtedly will show. But about one thing there seems no debate - Simms can be a good one. He might even develop one day into a quarterback who can lead the Bucs back to the playoffs, assuming he is provided with enough of a supporting cast. For now though, we're left with too many expectations and too little information. ``We are looking for a spark,'' Gruden said. ``We felt Chris could come in and give us a different perspective. I thought he did.''

Still, through two games and two quarterbacks, the Bucs have no offensive touchdowns. It could have been a season- changing story if that tap on Simms' shoulder had led to touchdowns and a happy locker room, but that's not how it worked. Instead, we're left to shrug and wonder. The kid looked OK, but when is someone besides Ronde Barber going to score a touchdown for this team? We're still waiting.