Roy Cummings, The Tampa Tribune, published 20 September 2004

Now what? Do the Bucs stick with Chris Simms as their quarterback, or do they go back to Brad Johnson? How about Brian Griese? Is it his turn to try to drag a plodding offense into the end zone? Jon Gruden hasn't decided yet. He said he's going to sleep on it.

Sweet dreams. After dropping a 10-6 decision to the Seahawks at Raymond James Stadium on Sunday, Gruden fell to 0-2 for the first time as a head coach and the Bucs for the first time since 1998. Tampa Bay went 8-8 and failed to make the playoffs that year. If they don't drastically improve, the Bucs won't make the playoffs this year, either. And Gruden knows it. ``The light bulb is flickering - at best,'' he said. ``It's a crisis right now.''

It's the Bucs offense that is in crisis mode. The defense, which dazzled in the season opener against Washington last week, shined like a beacon again Sunday, allowing Seattle just 182 total yards. The defense was so strong, in fact, that on another one of its worst days ever, the Bucs offense actually outgained Seattle by 89 yards and produced nearly twice as many first downs (17-9).

The difference was that Seattle found the end zone (receiver Koren Robinson slipped behind Brian Kelly to catch a 27-yard Matt Hasselbeck pass early in the second quarter) and the Bucs didn't. Again. The Bucs have had 25 offensive possessions this season, and the only thing they have to show is three field goals, including the two that accounted for their six points Sunday. ``I don't really know what's wrong, but I do know that we need to get something going right now,'' guard Cosey Coleman said. ``We can't wait two or three weeks.''

Gruden felt the urgency to get something going after just one quarter Sunday. That's when he pulled Johnson and inserted Simms in hopes the switch would give his moribund offense a spark. ``I had no intentions of making that change when I came here [Sunday],'' Gruden said. ``But at that time, I thought we needed to give the offense a lift. I thought Chris would give us a jolt. I felt Chris would come in and give us a different perspective, and I think he did that. Chris made a couple of decisions he won't like when he looks at the film, but he made some brilliant throws, too.''

A 35-yard pass to Charles Lee that put the ball at the Seattle 6 and set up the Bucs' second field goal late in the fourth quarter was one of those throws. Still, it is likely that Simms' debut (he had never been active for a game before Sunday) will forever be remembered for the mistakes he made, especially in the clutch. After driving the Bucs to the Seattle 1 during his second possession, Simms fumbled away the handoff on a third- down running play, forcing the Bucs to settle for Martin Gramatica's 24-yard field goal.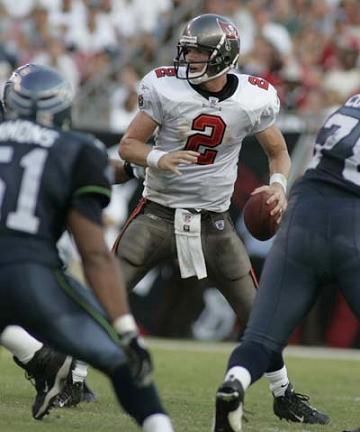 Three drives later, Simms fumbled again, this time after running left out of the pocket. He was looking downfield and waiting for a receiver to ``pop open'' when Seahawks end Grant Wistrom came from behind and knocked the ball away. ``He just held onto the ball too long at times,'' Wistrom said of the Simms, a third- round draft pick last year. ``But those are the kind of mistakes young quarterbacks will make.''

Young quarterbacks will often throw the ball when they shouldn't as well, and Simms' decision to do that during his team's final drive destroyed any Tampa Bay comeback hopes. After watching Rocky Bernard drop a pass thrown right at him and seeing Marcus Trufant's interception erased by a penalty, Simms threw an interception that stuck when he tried to complete a pass while falling down. ``He was a bit too aggressive at times,'' Gruden said of Simms, who threw while falling on a second-and-5 play from the Seattle 25, the ball landing in the arms of safety Michael Boulware. ``Somebody hit my foot, and I just fell,'' he said. ``[Throwing it] just goes back to being a stupid play. Believe me, I'll never make that mistake again.''

The question is when will Simms get that chance. He did complete 21 of 32 passes for 175 yards and put the team in position to score at least three times. ``I think I could have made a better case for myself [as the starter] had I got us into the end zone,'' Simms said. ``I think I was [earning the starter's job] right up until that last play, and that screwed it up right there.''

Johnson, who completed four of seven passes for 34 yards and an interception, was unavailable for comment after the game. There's a chance he'll retain his starter's job because the Bucs are not convinced their problems stem from the quarterback position. ``We're not doing anything with any consistency - running, throwing, converting third downs,'' Gruden said. ``A lot of it has to with the fact we've faced two pretty good football teams. And we have had a lot of mystery with our lineup. That has not made things easy. So we just have to find a way to get the offense going. We need to find our identity and our rhythm.''