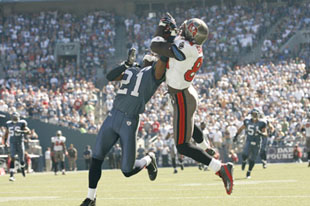 Scott Smith, Buccaneers.com, published 10 September 2007

This is, perhaps, how the Tampa Bay Buccaneers envisioned their offense starting the season, after a strong showing in August: Jeff Garcia to Joey Galloway for 49 yards on their sixth play from scrimmage. This is, almost certainly, not what the Bucs expected to see just 37 minutes into the season opener Sunday at Seattle: Luke McCown handing off to Earnest Graham on a third-quarter draw play. And this is definitely not the way the Buccaneers wished to start their 2007 campaign: a 20-6 loss to the Seattle Seahawks at Qwest Field that took a discouraging turn after a very strong start.

Tampa Bay management certainly believes in McCown and Graham and considers this year's roster much deeper than the one that finished 4-12 in 2006. However, Garcia and Williams are clearly critical cogs in what appears to be an improved Tampa Bay attack, and injuries to both in the third quarter left the Bucs undermanned in the second half.

Garcia did return a few possessions after "having his bell rung," and immediately drove the Bucs down inside Seattle's red zone. Williams, however, did not return thanks to an injury to his ribs sustained when he took a Lofa Tatupu helmet directly to his left side. His replacement, Graham fumbled after a nine-yard catch to end that final Buccaneer scoring threat. Garcia left the game again after directing one final march.

After Garcia and Williams left the game within a span of six offensive snaps, the Bucs failed to score again while trying to overcome a 10-6 lead. In the first half, with Garcia completing 10 of 14 passes for 142 yards and Williams rushing for 56 yards, the Bucs rang up 193 yards of total offense. Adding in his work after returning, Garcia finished the game with 19 completions in 27 attempts for 201 yards, no touchdowns and no interceptions. McCown completed one of four passes for nine yards.


Unfortunately, even with Garcia in the game, the Bucs had trouble finishing their drives, settling for field goals at the end of two long first-quarter marches. Facing a potent offense led by QB Matt Hasselbeck (17 of 24 for 222 yards, one touchdown and no interceptions) and RB Shaun Alexander (27 carries for 105 yards and one score), that early 6-0 lead wasn't nearly enough to hold off the Hawks. Seattle scored the game's final 20 points, adding 10 to pull away in the fourth quarter.

The game may have also swung on three long punt returns, two of which won't show up in the final stats. Nate Burleson's 56-yard runback late in the first half set up the game's first touchdown and allowed Seattle to take a 10-6 lead at the half. Meanwhile, two long Buccaneer returns – one each by Galloway and Ike Hilliard – were called back by penalties at the point of the catch, turning potentially great field position into terrible drive starts.

A few minutes after that second recalled return, the Seahawks' vaunted "12th Man" hiked up the volume in response to a an unusual sequence on an attempted punt. The Bucs' Josh Bidwell took a snap and prepared to kick before suddenly pulling the ball down, believing the play to have been whistled dead. Seahawk defenders then wrapped up Bidwell for an apparent change of possession in Buccaneer territory, but the officials allowed the play to be run again, determining that the whistle had come from the stands.

Apparently energized by that chain of events, Seattle's offense drove 52 yards from their own 20 to tack on Josh Brown's 46-yard field goal. That gave Seattle a one-touchdown lead with one quarter to play, and they tacked on seven more when RB Maurice Morris out-raced LB Derrick Brooks down the left sideline to catch a 34-yard touchdown pass.

Garcia and the Bucs' offense, so effective in the preseason, got off to a good start on Sunday, too. On the first play from scrimmage, Garcia took a quick two-step drop and fired out to the left to Galloway for a gain of nine. The drive ended badly, however. On first-and-10 from the Bucs' 44, Garcia hit Williams over the middle, just past midfield, but LB Lofa Tatupu punched the ball out of Williams' hands and LB Julian Peterson recovered for Seattle. Tatupu had two critical forced fumbles in the game, along with eight solo tackles.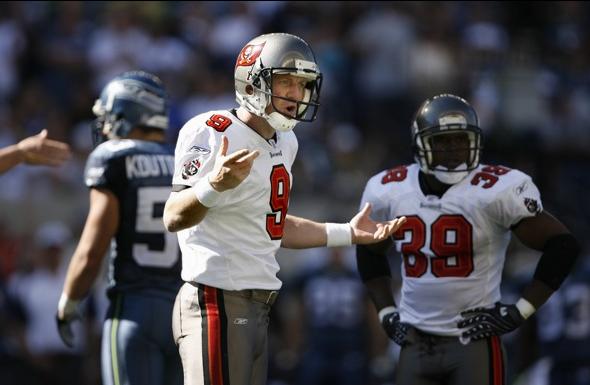 The Bucs' defense also started fast, and it substituted liberally on their first defensive series, bringing in defensive ends Gaines Adams and Greg White by the third play of the game. LB Quincy Black also saw a significant amount of action during the game, often on third downs. It was a well-established veteran who forced the Seahawks' first three-and-out, however, as CB Ronde Barber made a diving break-up of a pass intended for WR D.J. Hackett on third-and-nine.

After Seattle's punt, Garcia got the Bucs into scoring position with that 49-yard bomb to Galloway, who fought off CB Kelly Jennings and made a leaping catch over the well-positioned defender. That set up Matt Bryant's 38 yard field goal and the first points of the new season.

The Bucs immediately forced another punt and Galloway, Seattle's first-round draft pick in 1995, returned it past midfield. However, Barber was flagged for holding on the return and the ball was brought back to Tampa Bay's 10. Garcia quickly got the Bucs out of that hole with a 28-yard completion to Hilliard in the face of a heavy blitz and a 17-yard strike to TE Alex Smith that put the ball at Seattle's 39. CB Marcus Trufant broke up a possible touchdown pass to Galloway on a third-down fly, but LB Leroy Hill was flagged for roughing the passer, preserving the drive. Once again, the Bucs had to settle for a field goal, as Bryant hit a 32-yarder at the end of the 76-yard march, bringing the first quarter to a close.

The Seahawks finally sustained a drive into Buccaneer territory on their next possession but were eventually forced to punt after a trick play went awry. Alexander and Hasselbeck tried to run a flea-flicker, but S Jermaine Phillips shot into the backfield and sacked Hasselbeck for a loss of 11.

Still, the Bucs' inability to get the ball into the end zone in the first quarter allowed Seattle to take the lead before halftime. On third-and-12 from the Seattle 44, Hasselbeck escaped a heavy rush and heaved a deep pass downfield to WR Bobby Engram. LB Barrett Ruud and Phillips had deep coverage, but Engram alertly weaved between the defenders to get to the underthrown ball at the Bucs' seven. Tampa Bay's defense followed with an encouraging goal-line stand – DE Greg Spires' bat-down of a first-down pass and Brooks' capture of Alexander on a third-down sweep keyed the stop – and Seattle had to settle for Brown's 28-yard field goal with three minutes left in the first half.

However, the Bucs' offense moved backwards inside their own 10 on the ensuing drive and Burleson returned the ensuing punt to the Bucs' 14. Alexander got the ball down to the one on a weaving five-yard run two plays later – the play was originally ruled a touchdown but then reversed by replay – then punched it in one play later. That score gave the home team a 10-7 lead with a minute to go in the second quarter and the Bucs, possessing just one timeout, didn't try to push the ball downfield before halftime.


Neither team moved the ball on its first possession of the second half, and Spires clipped Seattle's second drive with a third-down sack of Hasselbeck. For the second time, the Bucs saw a long punt return, this one turned in by Hilliard, erased by a penalty deep in their own territory.

Fortunately, after the Bucs had to punt out of their end zone, the defense got the ball back with their first takeaway of the season. Burleson was fighting for extra yards on a short reception when Barber poked the ball loose and Ruud recovered for Tampa Bay at the Bucs' 32.

On their previous, abbreviated drive, the Bucs lost Williams when he took a helmet shot to the ribs from Tatupu. Three plays into the next drive, Garcia had to come out of the game, too, after taking a hard hit at the end of a three-yard scramble. McCown then helped the Bucs cross midfield but saw the drive end on the last of the five sacks registered by Seattle's defense.

Hasselbeck then opened up a 14-point lead for the Seahawks with two consecutive scoring drives, the first ending on Brown's 46-yarder after the Bucs narrowly missed taking the ball away on an Alexander fumble forced by Ruud. Seattle got the ball back quickly and scored again on Morris' catch with eight minutes to play.

Garcia then re-entered the game and mounted one more strong drive before Graham's fumble. After the turnover, Alexander's 22-yard breakaway up the middle helped Seattle chew up all but 30 seconds of the game's last three minutes.

With their fourth-quarter surge, the Seahawks' offense finished with 343 total yards to the Bucs' 284. Among the defensive standouts for Tampa Bay was Ruud, who led all players with 13 tackles, a forced fumble and a fumble recovery in his first action as the permanent replacement for the retired Shelton Quarles. Jermaine Phillips added 10 tackles and a sack and DE Greg Spires had five tackles, one sack and one pass defensed.

Second-year guard Davin Joseph had an occasionally rough afternoon, drawing penalty flags on four different occasions. Veteran WR Ike Hilliard had a strong opener as the starter at flanker, catching four passes for 49 yards. Galloway was Garcia's favorite look, as he hauled in five catches for 72 yards and was targeted on several other deep balls. Hilliard also returned four punts for 38 yards despite having his longest effort called back.