Simms Already Facing Questions; Can He Answer Them?
Martin Fennelly, The Tampa Tribune, published 11 September 2006

There was no batting down the questions. Chris Simms didn't try to deflect them. Simms' head coach had just apologized to fans for the Bucs mistaking the season opener for a fifth preseason game.

Simms' teammates had just said they lost as a team, and did they ever, 27-0 to the Baltimore Ravens, one of the great eggs laid in franchise history. What in the name of Haloti Ngata was going on here? Uh, the points, how do you spell that again? "Zero," Gruden said. "Z-E-R-O. Sums it up pretty well, I think."

So did Simms' exit with seven minutes left in favor of Buccaneer Bruce Gradkowski. The crowd roared. Chris Simms' day was done. "It never feels good," he said. "That's the plain and simple truth."

It had been that kind of day, the kind that keeps young quarterbacks up at night. It was the first time Simms ever began an NFL season as a starter, his time, his offense, his team, and it couldn't have gone worse, unless you were a Simms doubter even after he led the Bucs to the playoffs. This was a day for doubters.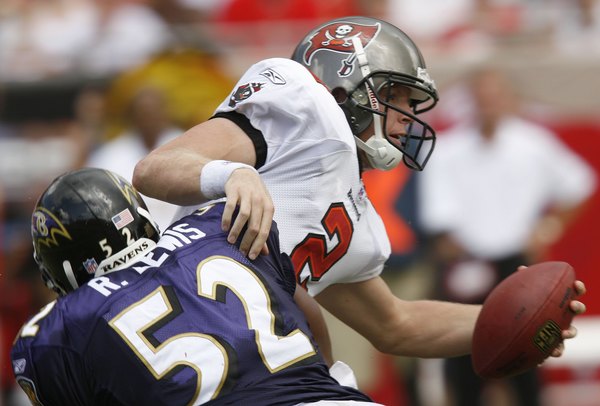 Simms and the offense were overmatched by a Baltimore defense every bit as hairy as Tom and Katie's baby. It was not a contest. Nothing went right. The Bucs managed just 142 yards on offense, a lot of them after it was done. A positively prehistoric performance. Simms had more throws knocked down. The Ravens knew about those. "Of course," Ravens linebacker Ray Lewis said. "We watch ESPN, too."

Three Simms throws were picked off. The first was returned for a touchdown. The second added the laugh track to an opener as sorrowful as the shutout the 0-14 Bucs opened with 30 years ago. What better summed up the afternoon than Ravens 340-pound defensive tackle and part-time apartment house, the man himself, Haloti Ngata, racing - racing! - 60 yards with a tipped Simms pass? It represented a personal best for Ngata, who once raced 58 yards, when he was chasing a pot roast. "That hurt," Simms said of the play.

It all hurt, really. No one on the Bucs was blameless Sunday. The defense set the back-on-your-heels tone by giving up a nine-minute touchdown drive. And the offense just kept backing and backing.

Could we get a few more two-tight end sets around here? Michael Clayton was the only Bucs wide receiver to catch a pass. Joey Galloway? Shut out, too. Balls were dropped. The patchwork offensive line, when not opening the gaping holes that led to 26 yards rushing, collapsed around Simms. But Simms collapsed some, too. "He did make a couple of decisions I think he regrets," Gruden said.

Like the first interception. Simms stumbled over Cadillac Williams as he dropped back, then tried to hit Doug Jolley. Now, we'd like to say that the fact that the Bucs were trying to go to Doug Jolley speaks to a problem all its own. But, anyway, Simms didn't get enough on the ball, which was caught by Ravens cornerback Chris McAlister, who ran 60 yards himself for a touchdown. "I just didn't throw it far enough," Simms said.

Nothing went far enough Sunday. Gradkowski's entrance wasn't much more than symbolic. Gruden simply didn't see a need to risk Simms anymore. Conspiracy theorists may stand down. "I'm standing by my man," Gruden said.

His man is Simms. As shattering as Sunday was, we'd do well to remember that this kid's best quality is resiliency. After Carolina smashed the Bucs and Simms last season, they immediately responded in rousing fashion against Washington. The week after New England shut out Simms and the Bucs, they came up big against Atlanta. "This is our leader," Bucs tight end Anthony Becht said.

The Falcons await, in Atlanta, snarling. Then come the Panthers and Saints. The division schedule is front-loaded. The answers, from the Bucs, and from Simms, will have to come quickly. "The answers are what matters," Simms said.

Which means one thing. The questions are back. It's the plain and simple truth.