The Tampa Tribune, published 20 January 2003

KEYSHAWN DIGS DEEP
This much we know about WR Keyshawn Johnson. He likes to be involved in games. He likes to make plays. He likes to score touchdowns. And he wants a Super Bowl ring. Sunday, several of his needs were satisfied. Johnson only caught three receptions against Philadelphia, but they all came during the go- ahead scoring drive that he capped with a 9-yard touchdown catch. Next up is Super Bowl XXXVII. Johnson can't explain it, it just happens. Whenever the Bucs offense needs to score, it just does. ``When we need to score offensively, we dig deep down inside and score,'' he said. ``I don't know how we do it, we just do it.''

In last year's offense, Johnson caught a career-high 106 passes for 1,266 yards and one touchdown. In Jon Gruden's offense, Johnson's numbers dropped thanks to some additional weapons, including free-agent acquisitions Keenan McCardell and Joe Jurevicius. Johnson led the team with 76 receptions for 1,088 yards and five touchdowns and became the first Tampa Bay wide receiver with consecutive 1,000-yard seasons. Even though he was more involved in the offense last year, in the Bucs new offense, opportunities to score are more plentiful. ``[Last year] we never would have thrown that touchdown,'' Johnson said.

TURN AROUND
On two consecutive possessions, at the end of the first half and beginning of the second half, Tampa Bay's defense forced fumbles. Those turnovers, and CB Ronde Barber's fourth-quarter interception, helped the Bucs win the turnover battle 3-1. Simeon Rice stripped the ball from Philadelphia QB Donovan McNabb and recovered the fumble just before the end of the second quarter. Then on the Eagles' first possession of the second half, Barber, on a corner blitz, knocked the ball out of McNabb's hand and DL Ellis Wyms recovered it. ``Those plays always turn games,'' Barber said. ``To me, if you look back at the games that we've lost here, going into halftime, they have always made a play. Last year was a screen for a touchdown. Year before that they scored a touchdown right before going into the half. [The turnovers] were an indicator of where this game was going and we dominated from there on out.''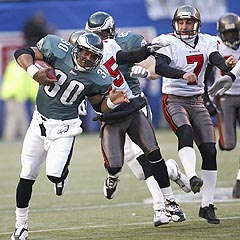 EXTRA SPECIAL
The nightmare scenario the Bucs' special teams couldn't let happen, happened on the opening kickoff. Philadelphia return specialist Brian Mitchell set an Eagles' postseason record with his 71- yard kickoff return, which set up RB Duce Staley's 20-yard touchdown run. Mitchell returned his second kickoff 43 yards. But then the numbers dwindled significantly, mainly because the Bucs did everything in their power, including squib kicks, to keep the ball away from Mitchell. He finished with four kickoff returns for 125 yards, a 31.3 average. He also returned four punts for 34 yards. Given the nature of Sunday's matchup, especially with two very strong defenses, special teams play was expected to play an important role. K Martin Gramatica put the first Bucs points on the scoreboard with a 48- yard field goal. Gramatica kicked a 27-yarder to give the Bucs a 20-10 lead just before the end of the third quarter.

INJURY REPORT
Michael Pittman sustained a mild concussion during the first quarter. He was replaced by Aaron Stecker, but returned in the second quarter. Starting RG Cosey Coleman sprained his right knee early in the second quarter during a running play. He was carted off the field, to cheers from the Eagles crowd, and was replaced by backup C/G Todd Washington. Coleman returned in the second half. DT Warren Sapp suffered a laceration above his right eye in the second quarter. Sapp went to the Bucs locker room to receive at least four stitches, but did not miss any playing time. DT Chartric Darby sustained a right calf strain and Wyms suffered a right ankle sprain.

BUCS BITS
Former Bucs Richard ``Batman'' Wood and Paul Gruber served as honorary captains and were present on the field during the coin toss. ... Sunday's 27-10 victory at Veterans Stadium was Tampa Bay's first postseason road win. ... Barber's interception return for a touchdown was also the first points the Bucs have scored in the fourth quarter on the road in the postseason. ... Before Sunday's game, Tampa Bay was 0-6 on the road in the postseason and averaged just seven points a game. ... Gramatica's 48-yard field goal was the longest in Tampa Bay postseason history. ... Following the game, Tampa Bay players and officials posed for photos in the locker room with the George S. Halas Trophy, given to the NFC champions.

THEY SAID IT
``Lee Flowers? I believe he's at home right now.'' Simeon Rice, referring to the Pittsburgh Steeler who called the Bucs ``paper champions.'' last season.