It's Easy To Quibble, But Bucs' 7-2 Record Looks Good Right Now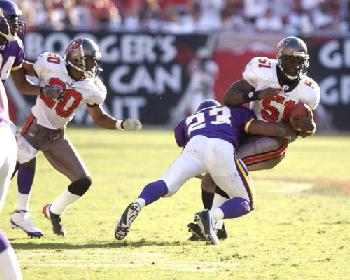 Joe Henderson, The Tampa Tribune, published 4 November 2002

You can be forgiven if this all seems a little unsettling. Here it is, November, more than halfway through the season, and nothing too much is wrong with the Bucs. At least nothing that a week off wouldn't help. Surely we can find something to raise our collective angst, but why? In a league where violent mood swings are a weekly event, the Bucs have reached November in a remarkably good position.

They haven't lost as many games as they've won, as is usually the case this time of year. They haven't had to concede the division and aim for a wild card. The season hasn't degenerated to the point where a trip to Philadelphia in January sounds just ducky. Can we stand the strain?

Following Sunday's 38-24 victory against Minnesota, they are 7-2. Or seven-dash- two, as former coach Sam Wyche might have said. They have lost once since the overtime game on opening day against New Orleans, when everyone said the new Bucs looked too much like the old Bucs. ``I'm glad somebody pointed that out,'' Coach Jon Gruden said when someone asked about his team's record. ``We don't take that lightly. It's so hard to do. Winning games is hard. This is a very competitive football league.''

For everything that is supposed to be wrong with them, the bottom line is very right. They are among a handful of NFC teams that can legitimately feel good about not only where they are, but also how things are shaping up for the weeks ahead. ``At the start of this season, we realized we have the chance to do something special and we've come out and played extremely good football. People may not have always liked the efforts on certain sides of the ball, but we're 7-2 and you're doing something in this league when you have that record. We've put ourselves in a real nice position,'' safety John Lynch said. ``It's in our hands. This time of year, we're usually crawling back into it. It's nice to be on top.''

Slow starts became a trademark of Tony Dungy's teams. Indianapolis is starting to understand that now. Giving away the first half of the season didn't usually keep the Bucs out of the playoffs, but those losses accumulated to the point where one misstep - say, Martin Gramatica's missed field goal at Green Bay on Christmas Eve two years ago - could be fatal. This team has been different so far. For all the talk about how the offense looks the same, the games are closer than they should be, and all that stuff, they're 7-2 and looking at three home games in the next four weeks. Instead of fretting about what's wrong, the possibilities are opening up before them.

Maybe the best part, though, they realize that for all they've done, they really haven't done anything yet. ``We've always had confidence that we can get ourselves out of whatever situation we're in; we've done it many times. We went to the championship game with a 3-4 start, so you can't tell me 3-4 is a bad place to be, especially with the people we have in this room,'' Warren Sapp said. ``But to be at 7-2, with the best start in Buccaneer history? OK, let's take a deep breath and see where we are in seven weeks.''

After the past few years here, that's probably a good idea. It's still early November, and they could still wind up back in Philadelphia come January. But this team has won four of five on the road. It has won with a backup quarterback. It won Sunday with two key receivers - Keenan McCardell and Joe Jurevicius - out of the game. The Bucs won without defensive tackle Booger McFarland.

You can keep coming up with things that are wrong if you want. Take away the 59 yards running back Aaron Stecker got on one play, and you have a ground game that produced only 74 yards on 29 carries - a 2.55 yards-per-carry average, to save you the math. People have screamed for Mike Alstott to get the ball. He got it 26 times Sunday, and gained 55 yards - 2.1 yards at a time. It's easy to quibble.

Maybe Bucs fans have gotten so used to that, they don't know what else to do. And since no team in the NFL is likely to win 50-0 each week, there will continue to be questions about the Bucs for as long as this season lasts. Here they are at the break, though, and they're 7-2. What's the problem? ``It's a great feeling going into the bye week. You take each week as it comes, but the signs are encouraging. We've got a nice schedule ahead, with a lot of games at home. It's setting up nice,'' Lynch said. ``This year's a little different. We went up to Philly and didn't get it done, so people are still reserving judgment on us. That's all right. It's quieter this year, but that's all right. We'll just continue to try to get those wins. I know 7-2 sounds a lot better than 6-3, and 8-2 will sound a lot better than 7-3. That's been our approach, and so far it seems to be working.''

So far. There's really nothing much to complain about, and that's just so disorienting. We might get used to all this, but it'll probably take some time. Thank goodness for the bye week.